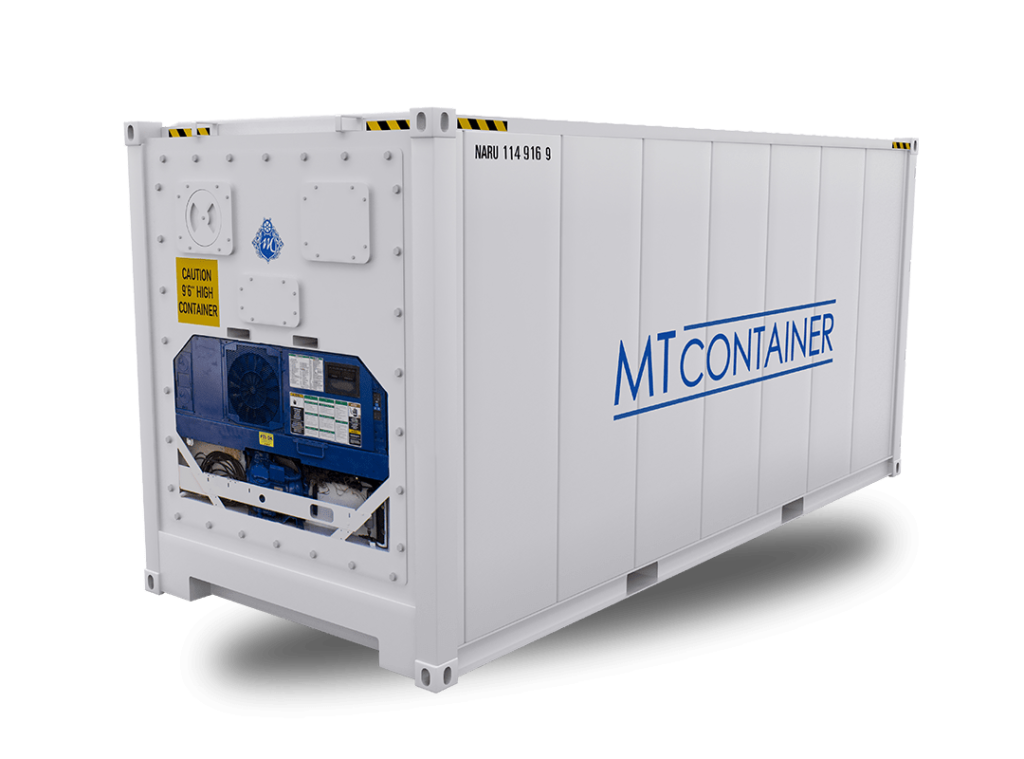 What are reefer containers?
Refrigerated containers – or "reefer containers" as they are often called – are containers used to move to perishable goods, maintaining the cold chain where it is vital for product quality and safety.
In the form of deep-freeze containers and insulating containers they are used for the gentle storage and transportation of foodstuffs, but also for other goods – like medication or flowers – whose quality is ensured based upon the maintenance of a certain temperature.
↑ Click staged image to enlarge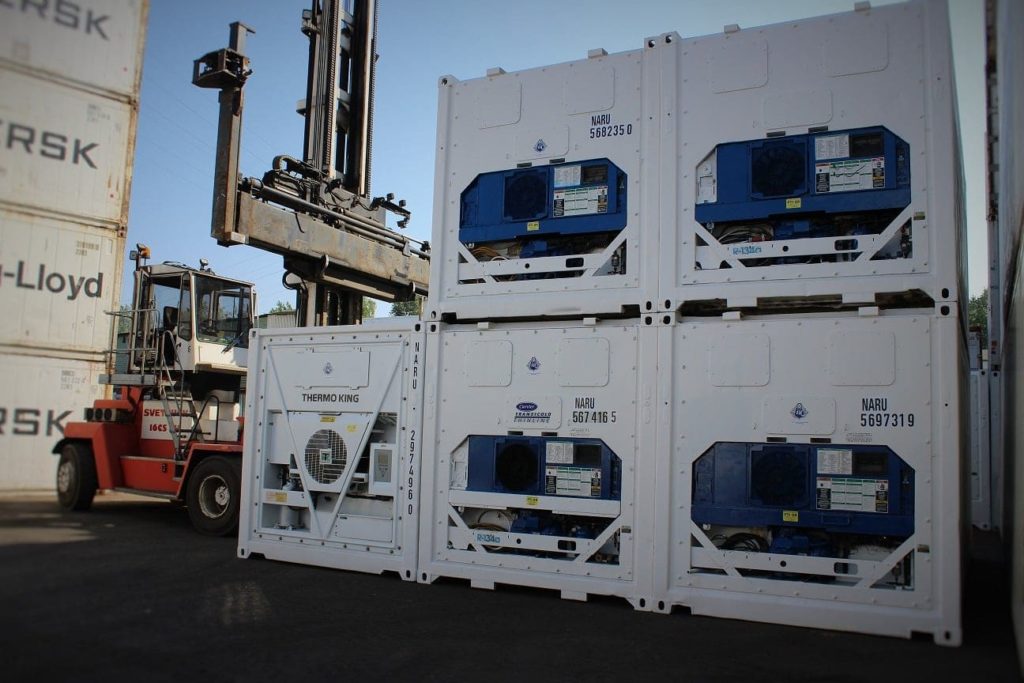 What are reefer containers used for?
If you are shipping foodstuffs or other products with a limited shelf life, you will need cooling containers that are capable of maintaining constant temperatures as low as -25°C. With built-in sensors, they also ensure that humidity levels remain within specific parameters. And they are designed to be stacked and transported easily with forklifts, of course.
In addition, if you need to expand your stationary refrigeration unit – whether temporarily or permanently – a reefer container can be a simple, cost-effective alternative to expensive construction work. In fact, refrigerated containers are found in far more industries than you might imagine.
How does a reefer container work?
Modern refrigerated containers are divided up into the loading area along with the cooling unit. The cooling machine can be adjusted to a wide range of temperatures, which means that the containers are suitable for many applications, from deep-freeze containers to storage at a constant temperature of up to +30°C.
Reefer walls are heat-insulating. They usually consist of polyurethane foam between steel plates. Temperature sensors detect the conditions inside and control the temperature regulator.
The exact technical function depends on the type of container.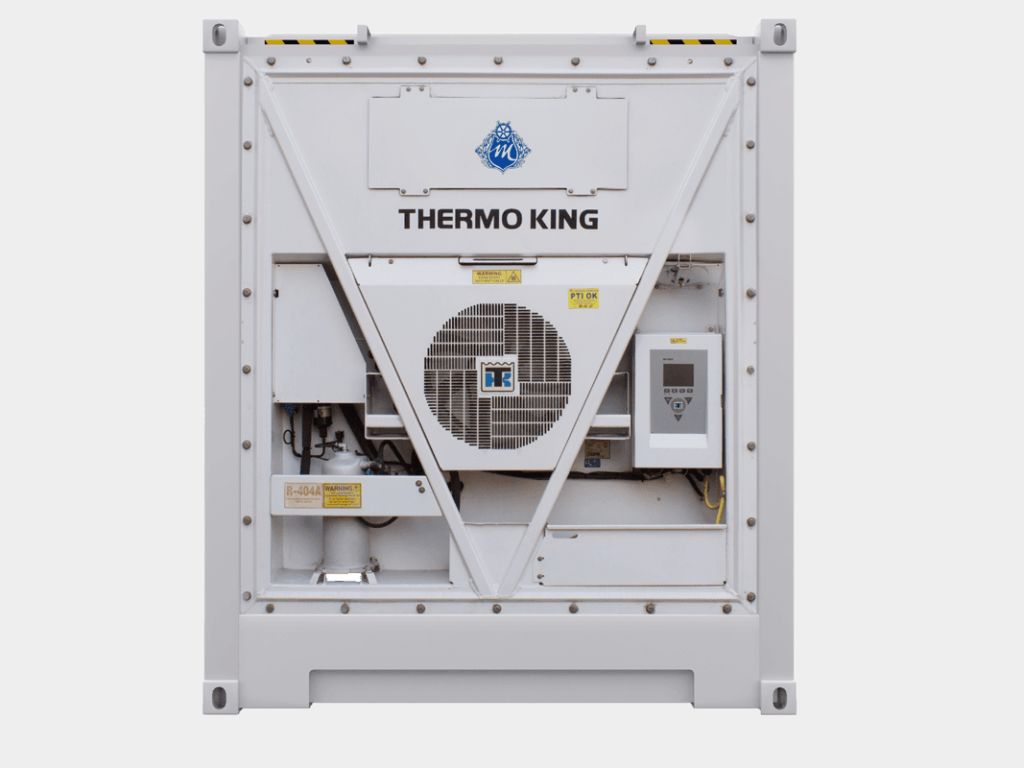 In which sizes do reefers come?
The following table shows the dimension in which refridgerated containers are available:
| | | | | | | | | |
| --- | --- | --- | --- | --- | --- | --- | --- | --- |
| Container type | External dimensions mm (LxWxH) | Internal dimensions mm (LxWxH) | Door dimensions/ Door opening (WxH) | Volumen m³ | Weight kg | Paletts Stellplätze | ISO Type key | ISO Group- key |
| 45 Feet High Cube Reefer container | 13.716 x 2.550 x 2.896 | 13.316 x 2.440 x 2.567 | 2.440 x2.567 | 83.9 | Empty weight: 6.090 Payload 27.910 Total weight 34.000 | 33 | 45 R1 | 45 RT |
| 40 Feet High Cube Reefer container | 12.192 x 2.438 x 2.896 | 11.550 x 2.290 x 2.545 | 2.290 x 2.557 | 67.5 | Empty weight 4.660 Payload 29.340 | Total weight 34.000 | 23 | 45 R1 | 45 RT |
| 40 Feet Reefer container | 12.192 x 2.436 x 2.591 | 11.577 x 2.294 x 2.110 | 2.294 x 2.174 | 59.8 | Empty weight 3.900, Payload 28.600 Total weight 32.500 | 23 | 45 R1 | 45 RT |
| 20 Feet Reefer container | 6.058 x 2.438 x 2.591 | 5.456 x 2.294 x 2.263 | 2.290 x 2.264 | 28.4 | Empty weight 2.900 Payload 27.600 Total weight 30.480 | 10 bis 12 | 22 R1 | 22 RT |
| 10 Feet Reefer container | 3.050 x 2.438 x 2.591 | 2.383 x 2.190 x 2.291 | 2.291 x 2.259 | 12 | Empty weight 2.250 Payload 7.910 Total weight 10.160 kg | 5 EUR Paletten | 12 R1 | 12 RT |
What types of reefers are there?
You can distinguish between actively and passively cooled units.
Conair containers, which are now almost no longer in use, are brought to low temperatures via external cooling rods. The external cooling is achieved by the introduction of cold air from the outside.
Today's integral containers have an active cooling system based on a built-in cooling unit. This unit can be operated with electricity or via a diesel generator.
In addition, it is possible to operate a reefer container without a a cooling unit as an insulating container. In particular, former Conair containers are used so that the porthole openings are sealed with insulating panels. Integral containers with defective cooling units can also be used as ISO containers until they are repaired.
These insulating units are able to keep a constant temperature and so that delicate perishables or machines are protected from outside influences.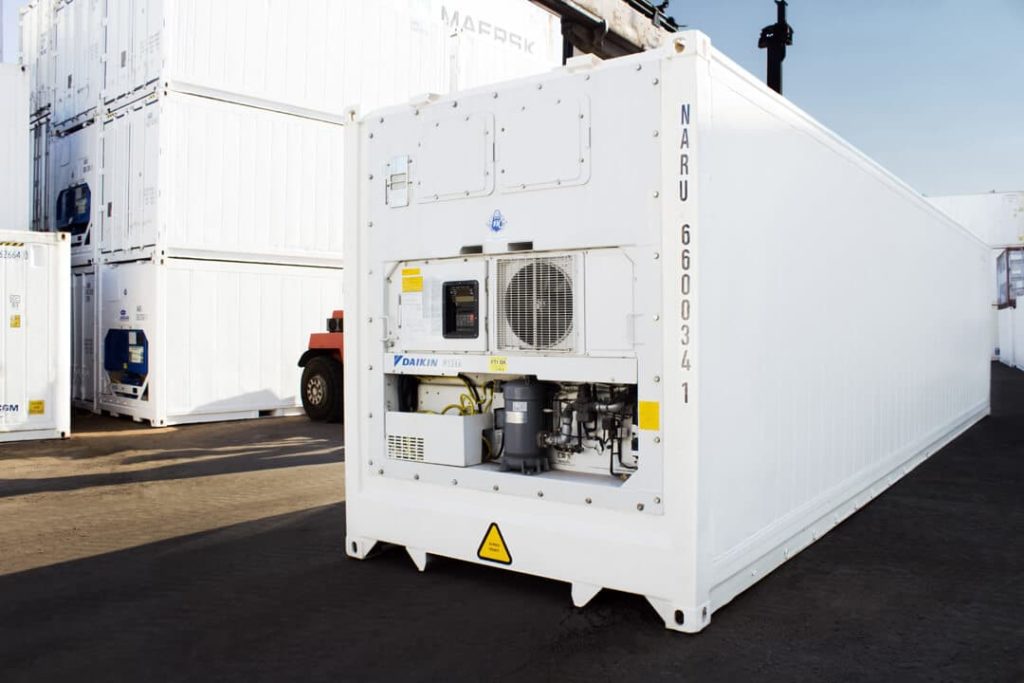 Features and speci­fications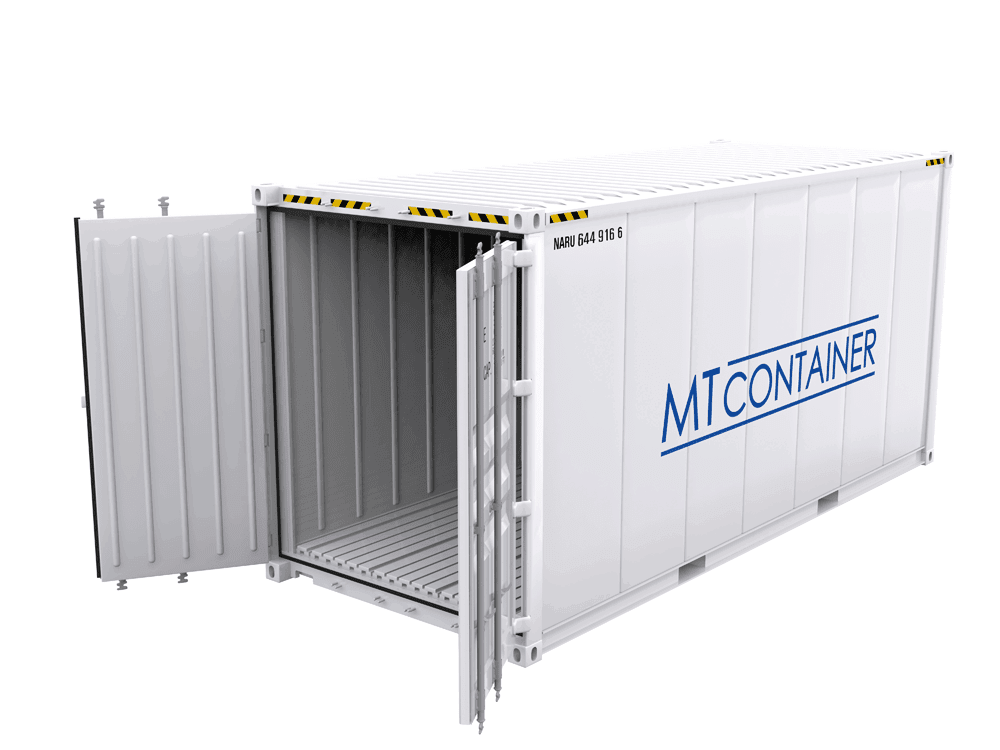 Equipment and our services
Reefer container configuration
You can find our refrigerated containers in different sizes based on your specific needs. In addition, we ship the containers that you can buy or rent from us with your desired equipment. These include, for example, a strip curtain, as well as outlets and lighting in the interior. Theft protection is ensured through a locking mechanism.
Cooling unit
The refrigeration system contains a compressor that works similarly to a refrigerator. Our refrigerated containers use refrigeration units from well-known manufacturers such as Daikin, Thermo King or Carrier. If necessary, we can also supply you with separate units or provide repairs from an expert technician if you notice a problem in the refrigeration unit.
We rent and sell refrigerated containers from established manufacturers
At our company, you can rent or buy container boxes from Hapag Lloyd or Maersk. The containers consist of a stable and durable steel frame. Delivery is nationwide all over Germany, but also to other countries in Europe like Switzerland or Austria.
Our containers are also for sale on Autoscout24 and Ebay classifieds.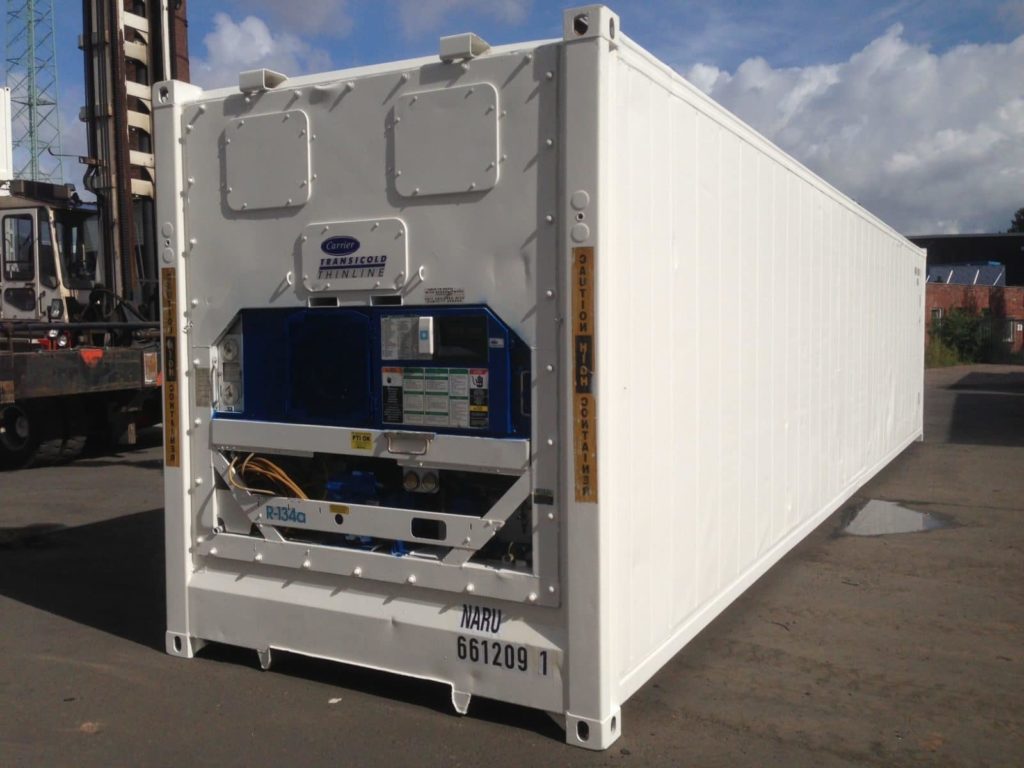 On the safe side
MT Container GmbH is not just a reliable and competent partner for refrigerated containers.
In addition to reefer containers and cooling cells, we are your contact for a whole range of other container services. If you need it, we also offer swap bodies.

You can also buy or rent maritime containers with or without a cooling unit.
We offer you an all-round carefree package with the PTI (Pre-Trip Inspection) for your containers. Overall, we ensure that all containers delivered by us, not just those that are used exclusively for refrigerated storage, but all containers meet the legal requirements. This means that overseas containers in particular have all necessary approvals and certificates.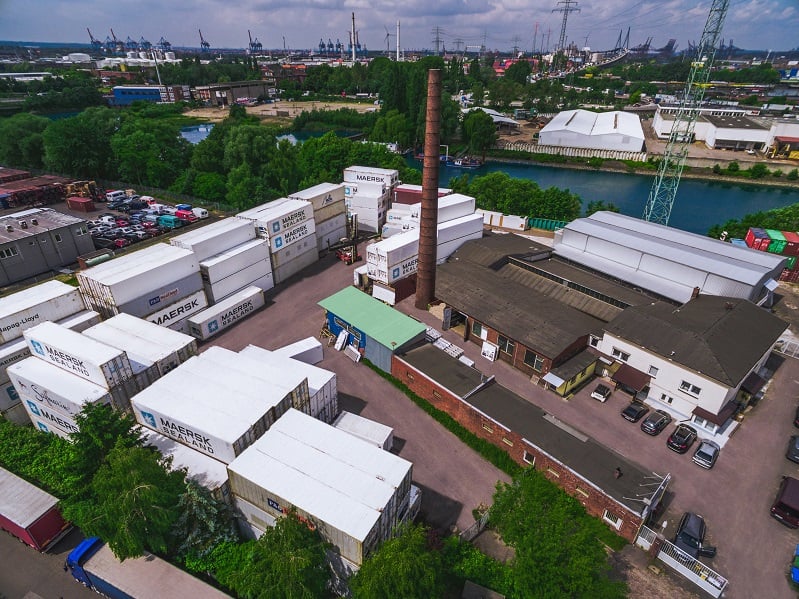 Why choose us?
Worldwide Service
We sell and transport containers worldwide.
Expert Business And Handling
Not only do we offer reefer containers for sale, we also offer repairs and specialised builds.
Always In Stock
At our container depot in Hamburg, we always have over 400 containers for sale.