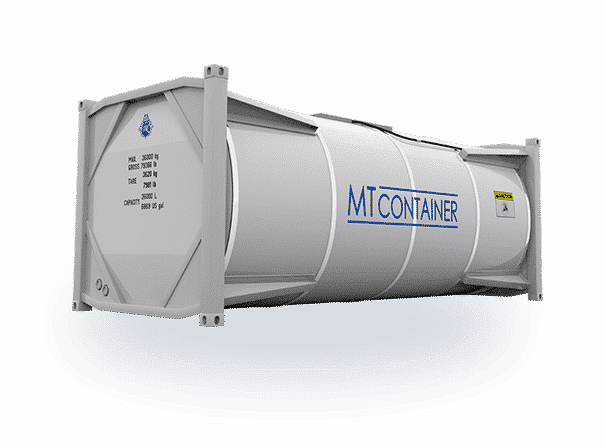 Description
MT Container GmbH in Hamburg offers you CSC tank containers for the transportation or storage of food and dangerous goods for purchase or rent.
What Should You Be Careful Of When Using Tank Container For Transport?
Whether food or chemicals, transportation in tank containers is subject to strict legal regulations used to ensure safe transport and to avoid contamination.Items such as juices, dairy products or oils must be transported under perfect hygienic conditions.
If necessary, insulation, as well as additional cooling or heating of the containers can be required.
Temperature sensitive cargo can be maintained by a temperature sensor.
Depending on the nature of the liquid, an agitator that is pre-installed in the tank must be used.
It is important that tank containers for food transport have a clear label. This can eliminate confusion and contamination.
Even when transferring dangerous goods and other chemicals, some safety precautions must be taken. Substances subject to increased safety requirements include fuels such as diesel, anti-corrosive agents and all other toxic, explosive or other hazardous substances.
For example, the tank containers for dangerous goods must not have any inlet or outlet openings below the liquid surface in order to prevent uncontrolled leakage in the event of a problem.
Each tank must be clearly marked in order to indicate possible dangers and to avoid confusion of the goods being transported.
Characteristics
Wind and waterproof
Interior panel out of aluminum
Insulated panel (insulating wool)
Environmentally safe transport
Tank protected with general purpose container frame
Areas Of Application
Ideal for transport of liquid materials
Container for liquid chemicals or oils
Suitable for transporting gaseous substances
Can be equipped with cooling unit
Types And Measurements Of Structure
You can buy or rent in our depot tanks with or without surge walls.
The tank chambers are divided into two or more sections by one or more surge walls. This prevents the load from buckling up during starting up and braking.
If you are using tank containers without a surge wall, you should ensure that they are either empty or at least 80% percent filled. For this reason, the containers with a surge wall offer much greater flexibility in everyday life because they allow variable filling quantities.
The outer dimensions of the tanks correspond to those of ISO containers. Common dimensions are 20 ft or 40 ft. In addition to ordinary storage tank containers, there are also so-called flexitanks. These tanks made of flexible material are placed in an ISO container or a tank trailer. However, they are only suitable for substances which are not covered by the Dangerous Goods Regulations.
Our Tank Container Services
In our depot, we can offer you new tank containers or as a general overhaul used container in good condition.
The stainless steel transport containers come from well-known manufacturers such as Rootselaar or Hoyer.
Just like many other types of containers, you can buy the tanks or rent them for a limited period of time, of course with a CSC plaque, meaning worldwide approval if your transport project requires this.
We also offer repairs and maintenance for tank containers or reefers in our depot.
Please do not hesitate to contact us. We will be glad to answer your questions about tank containers or tank container logistics.
By the way, you can also find our tanks, tank trailers and silo containers for sale at Autoscout24.
WHY CHOOSE US?
Worldwide Service
We sell and transport containers worldwide.
Expert Business And Handling
Not only do we offer reefer containers for sale, we also offer repairs and specialised builds.
Always In Stock
At our container depot in Hamburg, we always have over 400 containers for sale.