Why you should consider renting a container
Steel containers are the cheapest method of shipping goods across the globe, at just one-fifth of average air freight charges. However, buying a container may not be feasible for clients who use it sporadically. Since it represents a significant investment, logistics consultants recommend using a cost-to-benefit analysis including factors such as forecasted frequency of use, maintenance costs, and storage charges.
However, renting containers can be challenging and lead to complications if not done right. In this helpful guide to container hiring, MT Container GmbH proves that the process can be simple.
What are the shipping container types available for rent
Based on your cargo, picking the right shipping container type keeps your goods safe and reduces logistical hassles in the future.
The standard ISO container is a basic Corten steel unit ideal for shipping non-perishable cargo and machinery. It does not offer features such as refrigeration and has strict size regulations. However, it is the cheapest unit available with additional charges for light panels and electric fixtures.
An insulated shipping container rental is the right choice to ship food products like nuts, dry goods, and hardy vegetables. The unit is cooled before sealing, and the insulation prevents defrosting.
Meat and perishables are shipped in "refrigerated ISO containers" using an inbuilt cooling system. These units need constant power to maintain the cold chain.
Fruits and vegetables often require ventilation to retain freshness, and ventilated shipping containers use modified HVAC systems to circulate air and ripening agents within the unit.
For goods that require extra overhead space, open-top units are the right pick. Flat racks provide the additional clearance needed on all sides for Out of Gauge (OOG) cargo.
A Tank ISO container is supported by a steel frame for hazardous cargo and features a polyurethane or aluminum coating.
Lastly, for hefty cargo that requires crane loading, a reinforced hard top unit has a detachable roof and payload capacity of 30 tons.
Standard shipping container dimensions and capacity
Each shipping container for rent comes in 3 typical variants- 20 ft, 40 ft, and high cube (HC). The high cube units have an additional overhead clearance of 1 foot and an increased volumetric capacity of 350 m3 for a 40 ft HC. The technical particulars of standard units you can consider renting are:
Inner Dimension
Weight
Type of Shipping Container
Length (mm)
Breadth (mm)
Height (mm)
Tare (kgs)
Payload (kgs)
Gross (kgs)
Volume (m3)
20' Shipping
5885
2350
2403
2150
21850
24000
33.2
40' Shipping
12033
2350
2394
3800
26680
30480
67.7
40' HC Shipping
12024
2350
2697
4020
26460
30480
76.3
20' Flat Rack
6038
2210
2213
2740
31260
34000
NA
40' Flat Rack
12086
2224
1981
4200
26280
30480
NA
20' Insulating
5724
2286
2014
2550
21450
24000
26.4
40' Insulating
11840
2286
2120
3850
26630
30480
60.6
20' Ventilated
5888
2325
2392
2400
28080
30480
33.0
20' Reefer
5534
2316
2231
3030
27450
30480
29.9
40' Reefer
11563
2294
2161
4600
29400
34000
60.0
40' HC Reefer
11578
2295
2425
4640
25480
30480
67.8
20' Open Top
5879
2350
2347
2350
28130
30480
32.5
40' Open Top
12022
2345
2315
3740
26740
30480
65.3
20' Hard Top
5886
2342
2375
2590
27890
30480
32.8
40' Hard Top
12020
2342
2313
4700
25780
30480
67.2
40' HC Hard Top
12020
2342
2618
4900
25580
30480
75.8
20' Tank Unit
Technical particulars depend on manufacturer and cargo type.
Guidelines on selecting a shipping container for rent
Going with an established depot to select a shipping container for rent gives you the freedom to outfit your shipping container for any purpose. Renting gives you a wide variety of options to tailor the container to your requirement, so making the most of this opportunity is the key to profitably renting. The lack of maintenance and repair costs, the ability to use a container without having to store it, and the competent global rates make renting a lucrative option to consider when shipping your cargo.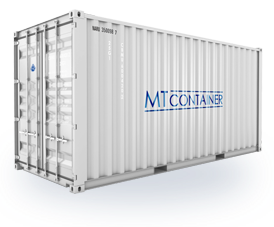 Besides, shipping containers are used for a variety of purposes, not just for shipping. They can be used for inland transportation, to double up as an office space, for extra storage on short notice, as a packing station for frozen and chilled goods, and even as a spacious living space.
Before booking, inspect the container for any wear and tear. All units must be certified by the Container Safety Convention (CSC), which issues a plaque for rated safe containers. The IILC 5 rating is the highest and warrants that the container is entirely secure. The CW (Cargo Worthy) rating notes that the unit has some wear but is still safe to be used for shipping. The WWT (Wind and Water Tight) indicates that the unit can no longer be used for shipping. A CSC plaque is only available for the IICL 5 and CW rating.
An on-hire container surveyor can certify that a unit is safe and meets ISO requirements. The shipping container rental cost can vary widely based on the depot and type of containers. Closer to major industrial hubs, the charges tend to increase due to higher demand.
Choosing the right shipping container for rent
MT Container GmbH is a trusted container depot based out of Hamburg, Germany. Operational since 2008, we are known for our expertise and wide range of container selections. Clients can opt for both renting and buying our units with a host of additional features. Our team of trained experts also handles container repairs and maintenance.
To know more about our containers, head over to www.mtcontainer.com to learn about how you can rent our units.