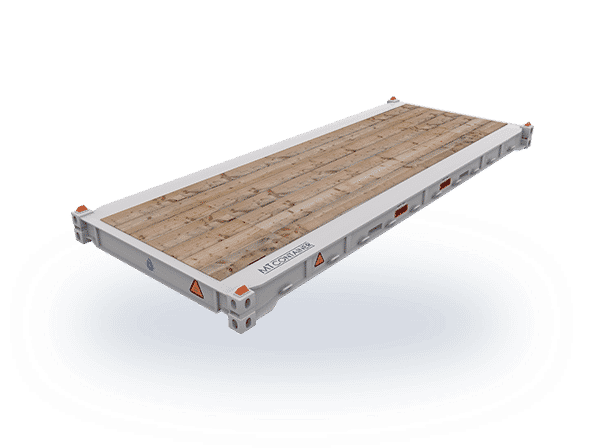 Description
In addition to all models, MT Container GmbH in Hamburg offers you platform containers of the required size, amount and top quality.
What Is Special About Platforms?
A platform container differs from a standard container in that it has no front and side walls. This makes it stand out against flatrack containers, which are equipped with front walls.
The particularly durable floor construction made of a steel frame and wooden floor provides the suitable base for heavy and bulky goods. Thanks to the enormous load capacity, you can also place heavy objects on a small surface.
In its base area, a platform container corresponds to the usual dimensions of containers and therefore has a length of 20 feet or 40 feet. However, there are hardly any restrictions on the size of the load. The platform container meets all requirements. Several platforms can even be placed side by side for storage.
In order to fasten the cargo securely and stably, numerous lashing rings are installed along the longitudinal beams.
Particularly useful for increased cargo is a platform container with 40 feet, which has a gooseneck tunnel at both ends. As a result, the cargo is somewhat deeper, which is particularly useful when oversized and can save crucial centimeters.
Characteristics
hoch Floor construction that holds heavy loads
No side and front walls
Steel frame construction and wooden floor
Gooseneck tunnel
Installed lashing rings to secure the load
Areas Of Application
Perfect for oversized and extremely heavy cargo
Transport of XXL machines and tractors
Aircraft components
Stackable
Platforms & Platform Containers For Rent Or Purchase In The Container Depot in Hamburg
At MT Container GmbH in Hamburg, you can buy platforms or rent them for short-term demands. On request, we can transport the containers from the port of Hamburg to your desired destination.

Please contact our competent team for a non-binding offer. In addition to the platform containers, we can also offer you other models such as sea, refrigerated, tank, storage, office, hard top, flatrack or open side containers.
WHY CHOOSE US?
Worldwide Service
We sell and transport containers worldwide.
Expert Business And Handling
Not only do we offer reefer containers for sale, we also offer repairs and specialised builds.
Always In Stock
At our container depot in Hamburg, we always have over 400 containers for sale.