How to buy a shipping container
If you are looking to buy a shipping container, there are some things you need to bear in mind – because after all, a container is not simply a container. Depending on the designated usage, there is a great variety of sizes, models and special equipment to choose from. So how do you find the perfect container for your needs? In this article, we explain all the option you have.
Sizes and types
| | | | | | |
| --- | --- | --- | --- | --- | --- |
| Container Type | Internal dimensions mm (LxWxH) | External dimensions mm (LxWxH) | Door opening mm (LxH) | Floor space m² | Volume m³ |
| 8-Fuß-Container | 2.278 x 2.112 x 2.060 | 2,438 x 2,200 x 2.260 | 2.100 x 1.949 | 4,81 | 9,92 |
| 10-Fuß-Container | 2.831 x 2.352 x 2.390 | 2.991 x 2.438 x 2.591 | 2.338 x 2.280 | 6,66 | 15,9 |
| 20-Fuß-Container (1-TEU-Container) | 5.898 x 2.352 x 2.390 | 6.058 x 2.438 x 2.591 | 2.338 x 2.280 | 13,88 | 33,1 |
| 20-Fuß ("High Cube") | 5.898 x 2.352 x 2.690 | 6.058 x 2.438 x 2.896 | 2.338 x 2.585 | 13,88 | 37,4 |
| 40-Fuß-Container (1-FEU-Container) | 12.032 x 2.352 x 2.395 | 12.192 x 2.438 x 2.591 | 2.340 x 2.280 | 28,37 | 67,7 |
| 40-Fuß ("High Cube") | 12.032 x 2.352 x 2.698 | 12.192 x 2.438 x 2.896 | 2.340 x 2.585 | 28,37 | 76,4 |
| 45-Fuß ("High Cube") | 13.556 x 2.345 x 2.695 | 13.716 x 2.438 x 2.896 | 2.340 x 2.597 | 31,79 | 86,0 |
What to watch out for when buying a container
To determine the condition of a container you intend to buy, there are classifications that help. The highest classification is IICL5, meaning that the container is as good as new and can be used for transporting goods. These containers also have a CSC plaque. The CSC is the "International Convention for Safe Containers." The plaque contains information on safety authorization, the authorizing country, the manufacturer, and the manufacturing dates as well as permissible load in both English and French and ensures that the container is suitable for logistical use. The second highest classification is "Cargo Worthy" (CW), meaning the container can still be used for logistic purposes, but has some signs of wear and tear. Finally, the classification "WWT" stands for wind- and watertight. These containers are still in good shape for storage, but they no longer have the CSC plaque and cannot be used for transportation.
In addition to asking for the classification, always check the container for damages like tears and rust holes yourself. If you plan on buying a used container with special equipment such as a security system or a cooling system, have it checked by an expert upfront so you are really sure they are working.
When you're making the purchase, also take into account that it might take some time to make the delivery – especially if you order a custom-made container. Additionally, remember that for the delivery there is usually a surcharge of about EUR 1 to 2.50 per kilometer.
Choosing the right container
Where do you buy a shipping container, and how do you choose the right one? In general, the choice is not all that difficult. Once you know what goods you want to transport or store, you will automatically know which type of container you need.
After that, the most important decision is whether to buy a new or a used container. If you need your container for transportation, the main thing you need to make sure is that it is still in a condition that allows the use in logistics – it needs a CSC plaque. In that case, an IICL5 classified container is just as good as a new one. If you need your container for storage only, you can also opt for the cheaper containers with WWT classification. A new container, however, is often advisable if you need high‑quality custom-built models with very specific modifications.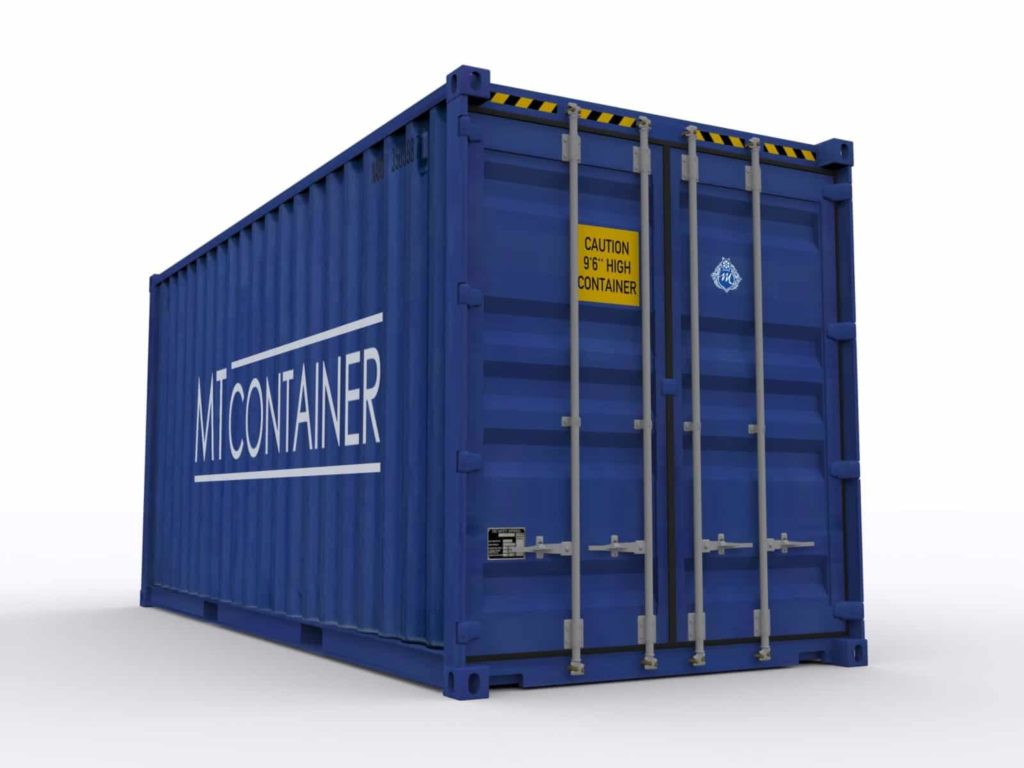 What can a shipping container be used for?
Shipping containers are mostly used for transporting goods and as storage units, but they are also frequently used as mobile offices on construction sites, as temporary housing or classroom options or mobile infirmaries in crisis regions, or at large festivals. Lately, they have also become quite popular in mainstream culture for building cheap tiny houses and even swimming pools in an industrial look.