Genset for reefer container
A generator can be an important addition to your refrigerated container. A diesel generator is able to run a container for up to 5 days without the need to refill fuel.
At MT Container GmbH in Hamburg, you can buy or rent generators for your containers, of course always after a comprehensive expert consultation.
We also offer repair and maintenance for generators, containers and reefers.
What Types Of Generators Are There?
Undermount Generator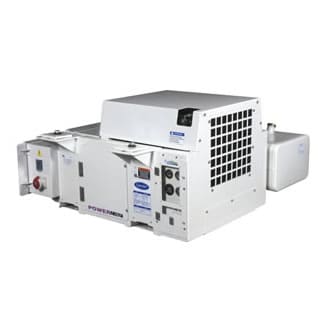 An undermount generator is firmly anchored to a truck's container chassis. This type of generator is suitable for refrigerated containers as well as for heating cargo. An undermount generator is especially suitable if you want to transport by frequently changing containers by truck.
A generator of this type has a weight of around 700 kilograms.
| | |
| --- | --- |
| Model | Undermount Genset Carrier oder Thermo King |
| Power | 15 KW |
| Weight | 670 – 710 kg |
| Dimensions | L x 1.35 m B x 1.55 m H x 800 cm |
| Fuel | Diesel |
Clip On Generator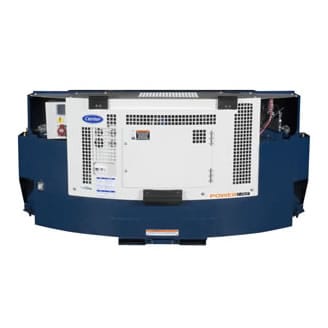 Clip on generators can be installed on the reefer container, therefore fitting more flexibly. Mounting and replacement can be done within minutes. Thus, a clip on generator is the perfect solution for refrigerated containers that are transported on ships, trucks or rail, as well as for storage in places where no power connection is available.
The weight of a clip on generator is about 800 kilograms.
Both types of generators are often installed with controllers or remote monitoring, ensuring smooth functionality and low energy consumption.
| | |
| --- | --- |
| Model | Carrier oder Thermo King |
| Power | 15KW |
| Weight | 820 – 850 kg |
| Dimensions | L x 2.3m B x 710cm H x 1055 m |
| Fuel | Diesel |
What Can Generator Do For A Container
Depending on the type and contents of the container, you may need constant electricity during transport and storage. At typical logistics locations, such as our container depot at the port of Hamburg, there are usually sufficient power connections. Likewise, many means of transport are able to supply your containers with electricity or a reefer container with cold air. However, individual vehicles or intermediate storage facilities do not always have a power connection.
Furthermore, sometimes when not in Germany the infrastructure can be slightly worse.
In such cases, a generator for containers can provide relief for all temperature-controlled transports, since in this way a reliable and independent energy source is available for use as required.
Generators For Reefer Containers
With a generator, you ensure that your cooling containers are available at all times, regardless of the location. This allows you to actively prevent a possible interruption of the cold chain and prevent spoilage of the goods.
For refrigerated transports, a generator is the ideal solution to provide a complete power supply to a cooling unit.
How Much Does A Generator Cost?
Buying or renting from us is possible depending on whether you have a temporary or permanent need for a generator.
The purchase of a generator can cost several thousand euros.
Container Generators For Sale
We at MT Container GmbH have consistently sold generators from well-known manufacturers such as Carrier and Thermo King at our container depot.
These generators have different features and performance levels. We would be happy to advise you on the details in order to find a generator that fully meets your requirements.
If you need a generator on short notice, or if you want to test it first, please send us a rental inquiry.
WHY CHOOSE US?
Worldwide Service
We sell and transport containers worldwide.
Expert Business And Handling
Not only do we offer reefer containers for sale, we also offer repairs and specialised builds.
Always In Stock
At our container depot in Hamburg, we always have over 400 containers for sale.