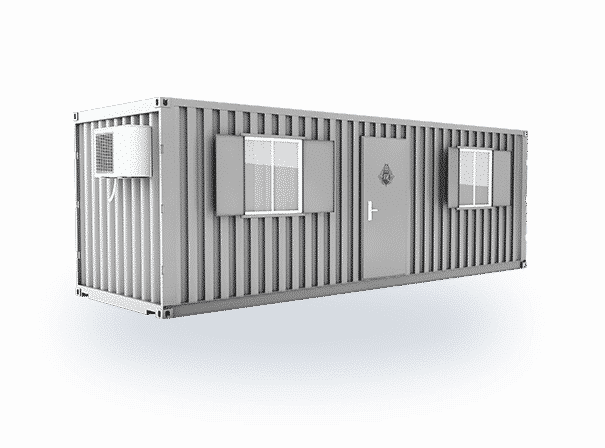 Description
MT Container GmbH offers you containers that can be used not only as offices, but can also fulfill many functions ranging from a construction site container to a living container or school container.
Why Use an Office Container?
An office container can be a perfect alternative to a fixed structure, even in the long term. You can always get the measurements and equipment you desire.
Whenever you need stable and weatherproof rooms, but only temporary use, office containers or residential containers are the first choice. They can offer the same comfort as solid buildings, but they are characterized by significantly lower construction costs. Also the short construction period is an important point.
The secret behind these container systems is the modularity, allowing for numerous equipment requirements. The panel construction allows for the placement of windows and doors that can be adapted to your wishes. They windows and doors come preinstalled and are fully insulated.
Office Containers Offer A Variety Of Possibilities
Office containers are versatile: they can be used at a construction site as a material or workshop container. Use as a room container or room for events as well as for wherever you have a temporary or increased need for office space.
Office containers can also replace conventional buildings in the medium and long term. Their great advantage is that they are extremely quick to get ready for use and long assembly times are avoided.
Living containers, sanitary containers or changing rooms can easily be created as well as large container facilities that house classrooms for schools, student residences or refugee homes.
Even a mobile lab can be accommodated in an office container.
From individual office containers to multi-story units, the modularity of the container system makes any size possible.
For short, recurrent operations, roll-away container systems are the perfect solution. The roll containers can be moved to another location quickly and easily. A special roll-off container vehicle is used for transport.
Characteristics
hoch Floor construction that holds heavy loads
No side and front walls
Steel frame construction and wooden floor
Gooseneck tunnel
Installed lashing rings to secure the load
Areas Of Application
Perfect for oversized and extremely heavy cargo
Transport of XXL machines and tractors
Aircraft components
Stackable
To Buy Or Rent Office Containers?
Whether an office container for purchase or rent is the right choice for your company depends on the duration of use and any special requests.
We will do our best to offer you the best solution.
MT Container GmbH in Hamburg offers a wide range of solutions for office containers. From our container depot located directly in the port of Hamburg, we can also provide you with many other types of containers such as storage or shipping containers as well as refrigerated containers for purchase or rent.
WHY CHOOSE US?
Worldwide Service
We sell and transport containers worldwide.
Expert Business And Handling
Not only do we offer reefer containers for sale, we also offer repairs and specialised builds.
Always In Stock
At our container depot in Hamburg, we always have over 400 containers for sale.