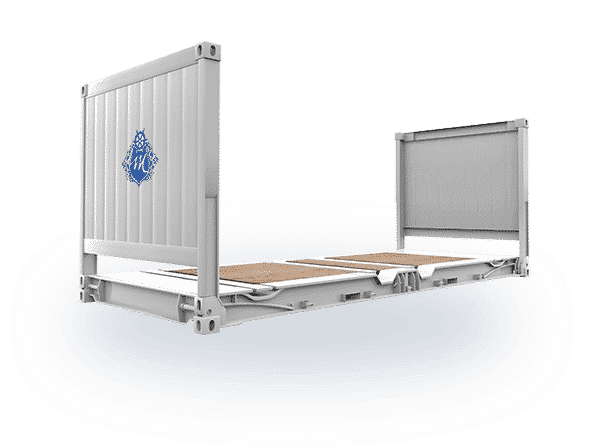 Description
What Are Flatracks?
Flatracks in the standardized version have front walls, but none on the side and no roof. Nevertheless, they are basically stackable like ISO containers and can therefore be used for many transportation projects.
A large range of models:
Flat rack containers correspond with typical container measurements. Usually they are 20ft and 40ft. We can also provide models with 45ft or as high cube.
Flatracks fulfill yet another function. Due to the fact that their floor design is designed for particularly high loads, they can be used on full container ships as artificial decks. The static payload for a 40 ft flat rack is about 50,000 kg.
What Should You Be Careful Of When Using Flat Rack Containers For Transport?
Due to the open design, cargo must be secured to the container. For this purpose, flat racks have lashing rings in the corner posts and on the ground.
In the case of particularly heavy cargo, care must be taken to ensure a uniform distribution of the load across the entire flooring.
In addition to open top containers or refrigerated containers, flatracks are regarded as special containers. This means higher freight costs during transport on the ship. Stacking is often not possible because of the dimensions or the weight, making the occupancy of a single place necessary.
Rent Or Buy Flat Rack Containers At Our Depot
At MT Container GmbH in Hamburg you can buy or rent flat racks that fit all of your transporting requirements.
Contact us if you want to safely transport bulk goods with large dimensions or heavy weight.
Since empty flat racks are often only available in seaports, we can also organize delivery to inland ports.
Characteristics
Steel frame and highly resilient floor
Foldable or fixed end walls
Secure loading with installed lashing rings
Gooseneck tunnel
Additional protection by stakes
Areas Of Application
Heavy cargo haulage
Machine and large component loading
Oversized pallet transportation
Vehicle transportation
Industry transportation
WHY CHOOSE US?
Worldwide Service
We sell and transport containers worldwide.
Expert Business And Handling
Not only do we offer reefer containers for sale, we also offer repairs and specialised builds.
Always In Stock
At our container depot in Hamburg, we always have over 400 containers for sale.