Analog steel container becomes digital pop up beer garden
Analog steel containers become a bar in a digital beer garden in Germany's smartest city – Ahaus.
Tobit Software Laboratories AG – what exactly does our client do?
Our customer, Tobit Software Laboratories AG from Ahaus in Westphalia, is a company that has been playing at the top of the digital league for over 30 years, where otherwise only the giants from Silicon Valley can be found. Tobit Software Labs is engaged in advancing digitalisation through research and development.
Ahaus is Germany's most digital city – what does that mean?
The medium-sized city of Ahaus relies on digital solutions wherever possible in urban life and is thus developing into the showcase smart city in Germany.
For example, residents can use their mobile phones to buy concert or open-air pool tickets, rent a rowing boat or an eBike, order a drink to their table, rent sports equipment in the park and much more.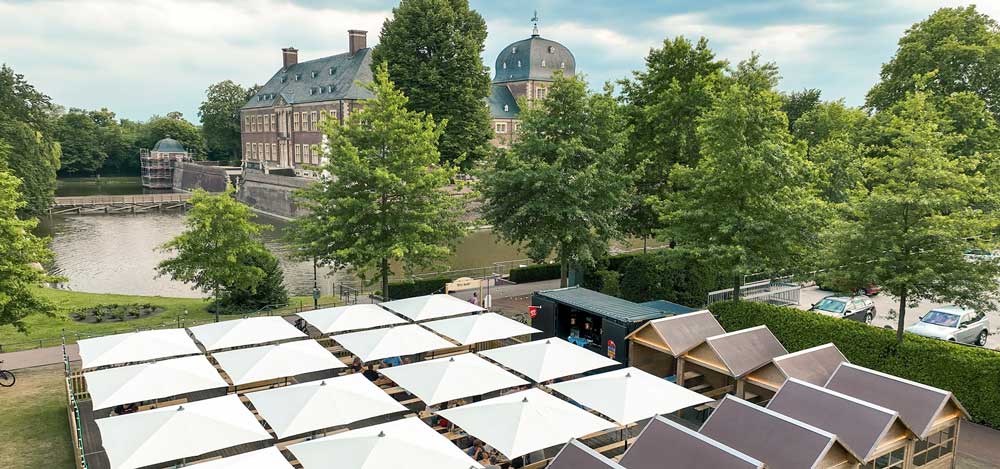 What is a digital beer garden and why do you need steel containers for it?
The container is an integral part of the Digital Pop Up Biergarten. It is located in the middle of the Schlossgarten in Ahaus.
PopUp – because the entire beer garden was set up and made ready for use within one day. The container is used here as a complete bar element in which different drinks and small snacks are prepared. Digital – because there is neither cash nor a cash register system here; the guests in the beer garden order and pay directly themselves with their own smartphones – and the orders then end up in the container with the team.
The whole concept is a showcase of Tobit, showing how Tobit's chayns software works in practice.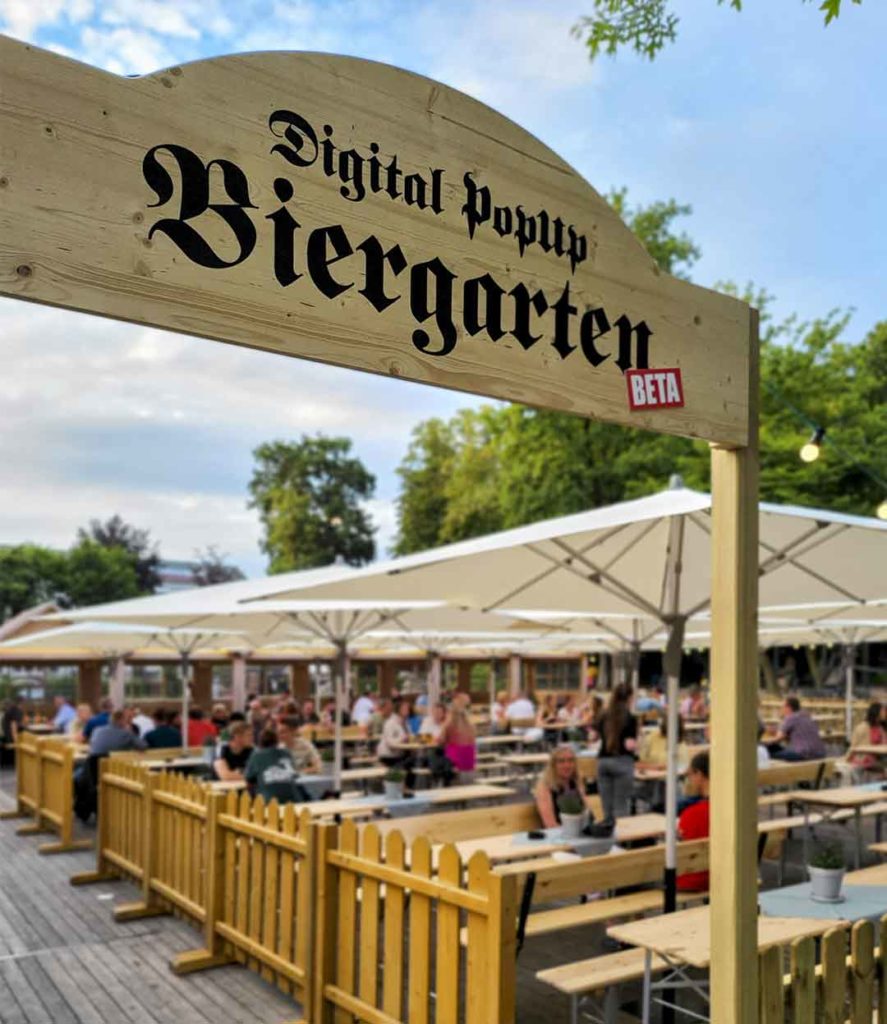 Bar container – a steel container as a bar – what do you need?
For the container bar at Tobit, an open side container and a dry container were each painted 20 feet in black. The Tobit team then assembled and fitted these out under their own direction.
Depending on the concept, we can also make openings for doors or windows in MT Containers so that installation on site is easier if required.
In addition, of course, you should always make sure that the ground is suitable for the construction, that electricity and water supply are secured and determine in advance whether the container will only be used for a certain time or will remain there permanently. In Germany, building applications and permits must also be obtained, depending on the project.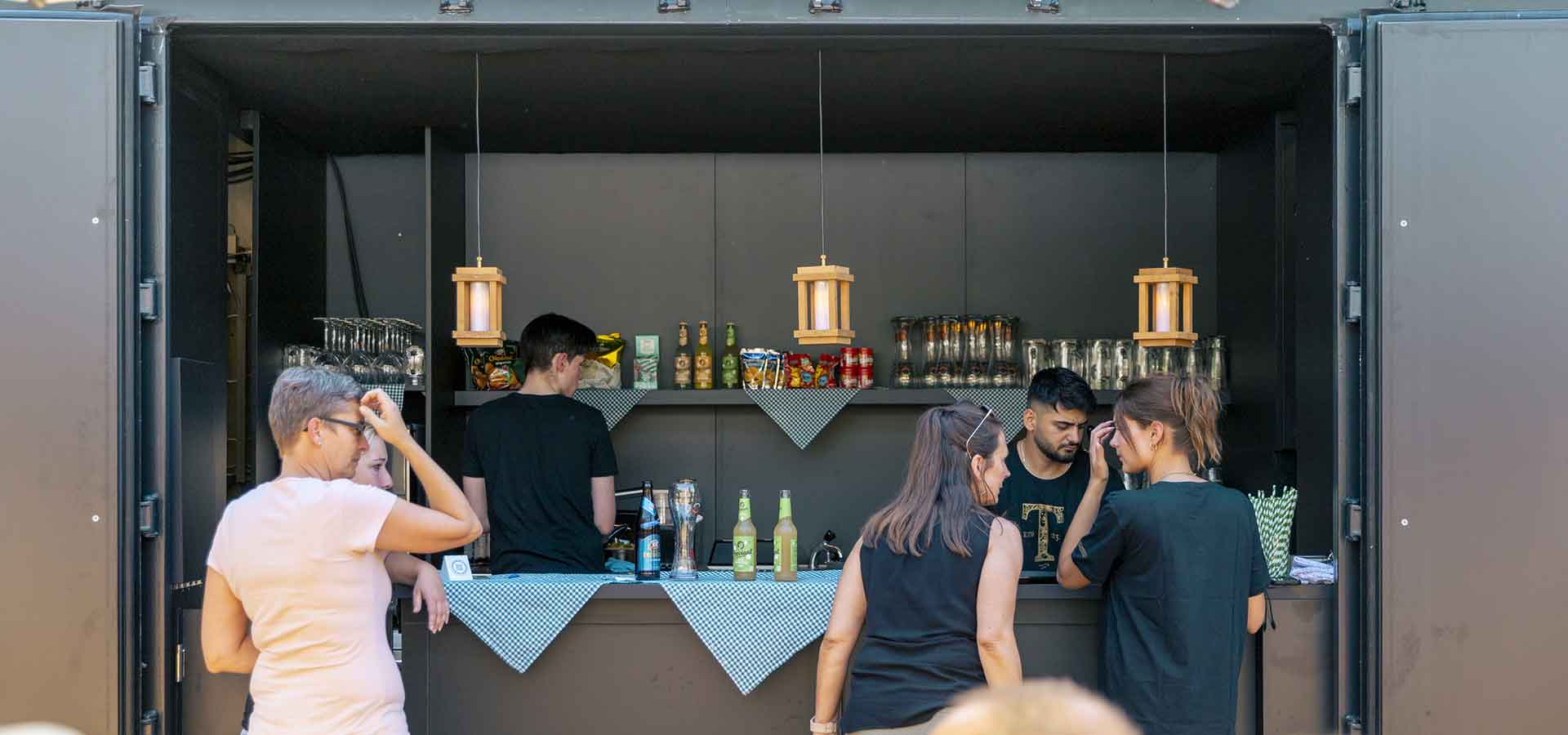 You also want to build a container bar, a container café or something similar?
At MT Container, we not only rent and sell containers, but we also have all the necessary trades needed for a conversion. Already in the second generation, we accompany our customers expertly and professionally. Whether you need a refrigerated container for your project or a storage container, we will find the right solution for you.
Our sales team will be happy to advise you on containers and will find the best solution for your individual project. Please contact us and one of our specialists will get back to you.
We are looking forward to your projects.